Caltha Palustris, Image size same, margins smaller
MNB11 $295
Sale Price: $165
This print measures approximately 9 1/2 inches wide by 13 3/4 inches long.
We are pleased to offer a selection of hand colored copper engravings from the 1696 folio edition of Naauwkeurige Beschryving Der Aardgewassen by Abraham Munting, This is a rare and unusual work depicting plants set in or floating above distant landscapes. The plants are often larger than life, with decorative scrolls presenting their Latin names. The surreal and tranquil scenes are enchanting, and the prints are superbly decorative and highly sought after.
Abraham Munting, born in 1626 in Groningen, was a Dutch physician, professor, & internationally renowned botanist. He became director of the Hortus Botanicus at Groningen at the age of 32 and served in that position until his death in 1683.
The prints are in excellent condition on soft creamy chain-lined paper. They have been beautifully hand colored in England by one of the few remaining professional colorists whose specialty is botanicals. Each print measures approximately 11 inches wide by 16 1/2 inches long, with strong plate marks. There is no descriptive text. Please inspect the images carefully as they are quite accurate. They are more than 300 years old!
We accept credit cards & PayPal. Washington state residents pay Washington state sales tax. Shipping for this item is $12.95. Items can be combined to save on postage. International shipping starts at $30 and buyers are responsible for all customs duties and fees. Our environment is smoke free. We pack professionally using only new materials. All items are beautifully wrapped and suitable for sending directly as gifts. You may return any item within 7 days if not satisfied. To order, you may call us at 1-888-PANTEEK, fax or email.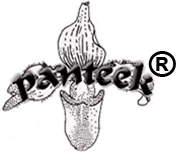 PANTEEK is a registered trademark