While our images are electronically watermarked, the antique prints themselves are not.
Splendid map of the world on an oval projection showing California as an Island and partially mapped Australia and New Zealand.
Measures approximately 16 x 10 3/4 inches
SCH1 $1,650
This map is from the series produced by Scherer who was a mathematics professor and devout Jesuit. It shows the sailing routes to the East Indies across the Pacific, around the Cape of Good Hope, and (optimistically) around a Northeast Passage to Japan. The corners of the map are richly decorated with sailing ships representing the major European powers: Britain, Holland, France and Spain.
References include: Shirley, World 633
A richly engraved world map showing primarily the sailing routes from Europe to Asia, including a rather optimistic route to Japan via the Northeast Passage. It is possible that the routes shown on the map were those used by Jesuit missionaries. The unusually formatted map has Australia in the center. The galleons located in the corners of the map symbolize the voyages of the French to New France, the Dutch to the East Indies, the English to New England, and the Spanish to Mexico and Peru. As shown, Scherer portrays California as an island and other newly charted lands, such as Australia and New Zealand.
Scherer's Atlas Novus consisted of eight volumes and 187 plates and is considered innovative in terms of its combination of highly decorative Catholic iconography and largely accurate cartography. The eight volumes were published between 1702 and 1710. Scherer held various positions in the field of education from Professor of Hebrew and Mathematics at the University of Dillingen to the official house tutor of the Royal Princes of Mantua and Bavaria. Scherer, a Jesuit, charted the revival and spread of the Catholic faith in the late 16th and 17th century. Each map is richly adorned with cartouches that consist of celestial beings, sea monsters, and even ships bearing Jesuit priests sailing to their various destinations around the world. California is consistently portrayed as an island on each of the maps.
We accept credit cards & PayPal. Florida state residents pay Florida state sales tax. Shipping for this item is $14.95. Items can be combined to save on postage. International shipping starts at $35 and buyers are responsible for all customs duties. Our environment is smoke free. We pack professionally using only new materials. All items are beautifully wrapped and suitable for sending directly as gifts. You may return any item within 10 days if not satisfied. To order, you may call us at 1-888-PANTEEK, or send email to panteek@aol.com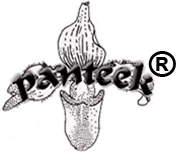 PANTEEK is a registered trademark