While our images are electronically watermarked, the antique prints themselves are not.
Calamintha montana vulgaris, Calamintha montana praestantior BES37 Price $950 Sale Price: $675
Each print measures approximately 18 inches wide by 21 inches long
Basilius Besler was the botanist apothecary who produce this superb work, the Hortus Eystettensis, published in Eichstatt, Germany in 1613 under the patronage of the Prince Bishop of Eichstatt. It was from the prince's remarkable botanical garden that many of the illustrations came. This stunning garden was a lavish and costly creation containing many exotic imports from far flung parts, including American and Asia.
Besler worked on the drawings for almost sixteen years, supervising a team of at least six engravers. The work depicts over 1,000 flowers on 374 copper engraved plates, representing 667 species. The prince spent thee thousand florins for the work and sadly, was to die the year before publication, though he had seen most of the plates. His successor had little interest in horticulture and his garden soon fell into neglect.
It is a feat of publication on a scale rarely attempted since, and the two volumes of the work were so large it was reportedly transported in a wheel barrow. The massive size and elaborately produced copper engravings certainly make it one of the most ambitious botanical publications in the history of botanical illustration, even predating Linnaean classification.
Besler sometimes sacrificed botanical detail for decorative effect and the artistry of design and splendid compositions make this work beloved to the very present. Only a few copies were hand colored at the time of printing. Each print measures approximately 18 inches by 21 inches and is printed on the fine thick hand made paper of the time. The plate marks are strong and the coloring fine old coloring. There is little foxing & the condition is superb for the age of the plates. There is slight bleed through of the text from the verso, as is typical with this publication. It is not pronounced due to the thickness of the paper. These rare and beautiful illustrations make a wonderful addition to the collection of the botanical print enthusiast.
References include Blunt (1950), p.75; Botanical Prints from the Hortus Eystettensis (1980).
We accept credit cards & PayPal. Florida state residents pay Florida state sales tax. Shipping for this item is $17.50 in the US. International shipping starts at $40 and may vary according to the destination country and the size of the package. Buyers are responsible for all customs duties. Items can be combined to save on postage. Our environment is smoke free. We pack professionally using only new materials. All items are beautifully wrapped and suitable for sending directly as gifts. You may return any item within 10 days if not satisfied. To order, you may call us at 1-888-PANTEEK or send email to panteek@aol.com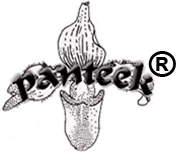 PANTEEK is a registered trademark